News & Insights
What is Amazon A+ Content?
To sum it up in one sentence: Amazon A+ Content offers you a proven way to boost traffic and sales.A+ Content allows you to create captivating Amazon content, without needing the skills of a Picasso or Hemingway.
"Okay, so what is Amazon A+ Content?"
Amazon A+ Content is enhanced product detail for your Amazon product pages that can take many forms, including high-quality images, comparison charts, video content, FAQs, and more.As Jeff Bezos has said, "we're customer-obsessed;" to win on Amazon, you have to be customer-obsessed, too. A+ Content is your chance to make your products shine. It is a living extension of your website and social media. You should be using this experience to double down.Have a look at the following product page for a Bug Bite Balm. Rich visuals, combined with informative, concise copy, put the benefits of the product on full display.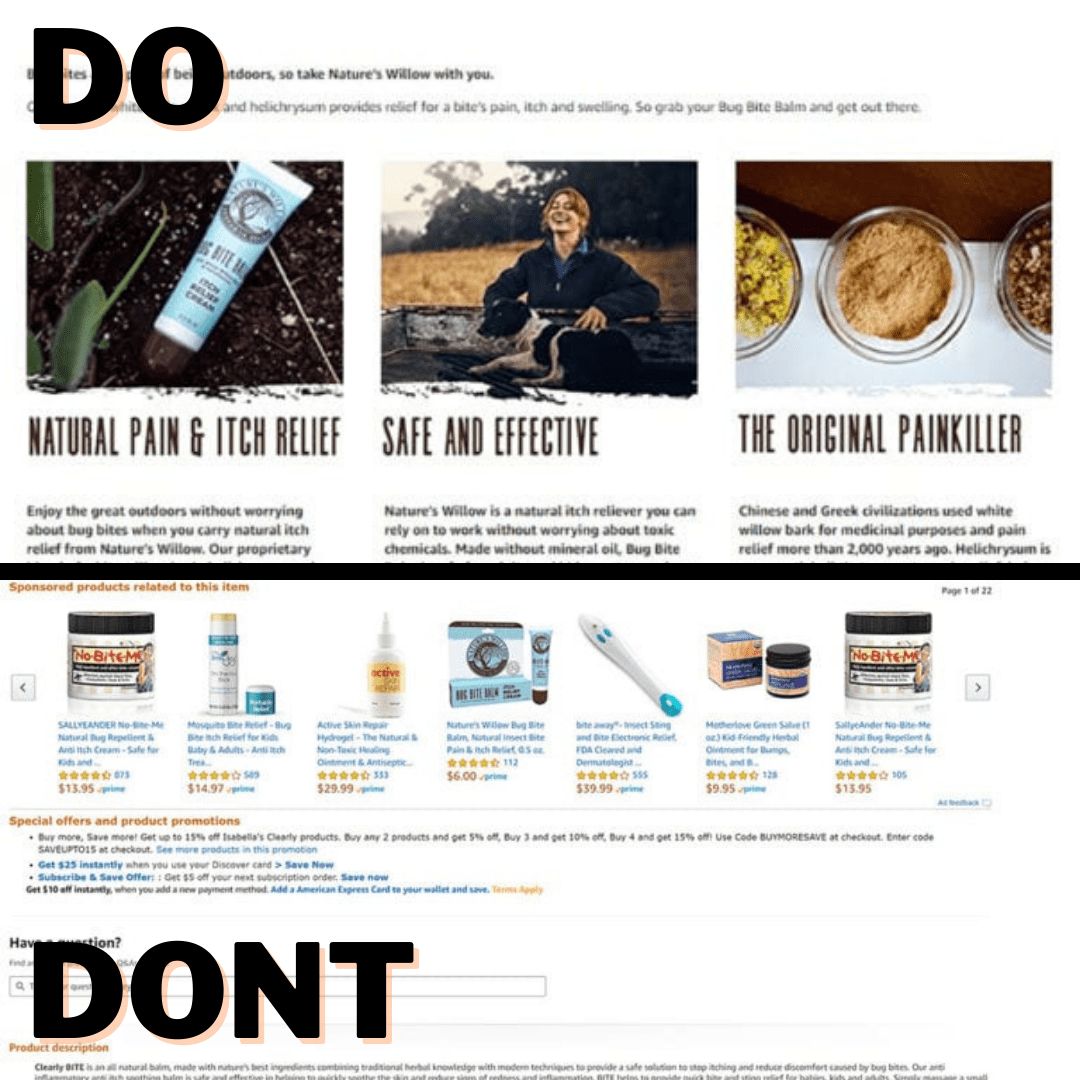 As you can see, if executed correctly, Amazon A+ Content can enable brands to differentiate themselves from competitors, build customer trust, increase conversion rates, and establish long-term brand loyalty. It can even lead to higher rankings on Amazon search engine results pages!
So what is Premium Amazon A+ Content?
If we look beyond A+ Content, we can see A+ Premium. Also known as A++ Content, it expands a page's useable real estate. Premium listing pages can include:
Integrated 720p videos
16 interactive content modules
Robust, clickable FAQs
Interactive Content
Voice-friendly and mobile-friendly product pages
Connections with Alexa Systame
Premium content does come with a large fee (a six figure fee). Therefore it makes the most sense for large vendors who have high revenue and a huge budget. For most sellers, Amazon A+ Content has more than enough for most vendors to win over customers and Amazon.
Getting Started with Amazon A+ Content
Amazon A+ Content can be overwhelming to some sellers. There is so much content to work through and create, and creating A+ Content can be difficult without guidance. Amify has the expertise and experience to help businesses maximize the potential of A+ Content. If you'd like to know more about how Amify can help you with Amazon A+ Content, and much more, reach out to us here.
More Resources And Articles
Contact Us
Learn more about how we can help your Amazon business succeed!
700 West Pete Rose Way, Suite 540, Cincinnati, OH 45203