News & Insights
Amazon Direct Ship
The Benefits of Amazon Direct Ship
Amazon Direct Ship is the process of sending inventory directly from a supplier to an Amazon warehouse. Direct Ship eliminates the intermediaries and gets goods to Amazon faster. Once products have been received, Amazon stores, prepares, and exports products directly to excited customers. Below, you can find some of the benefits of direct shipping provided by the Amazon experts here at Amify.
Products Arrive Quicker to Amazon
One of the greatest benefits of Direct Ship is that products arrive faster to Amazon. When using this Direct Ship, the middleman is removed from the equation, decreasing the time it takes for products to be available for purchase. Imagine if you are a California-based brand shipping to a New York-based third party company who then transports your product to a nearby Amazon warehouse. Now imagine that New York has been slammed by a huge snow storm, putting a halt to all transportation. Your product is now sitting stagnant while your customer is awaiting a delivery for a special occasion. With Direct Ship, a brand's products are safely stored and secured inside an Amazon facility so that sellers never miss a purchase opportunity. Their products can be purchased, processed, and transported with ease for all parties involved.
Cost Savings
Pure and simple, less stops, less postage: more savings. With Direct Ship, many sellers can remove an unnecessary stop between their inventory and fulfillment, dramatically reducing shipping costs.
Increase In-Stock Percentage
Another benefit of direct shipping is higher in-stock percentages. Direct Ship allows sellers to better adapt to changes in demand by decreasing the time it takes to replenish products. With quicker replenishment, sellers can better react to trends and maintain sales velocity, ultimately leading to more sales and improved ranks on Amazon.
Boost in Sales
As mentioned above, the more products that are readily available, the more sales a seller may experience. Having readily accessible inventory allows a brand to fill more customer orders at a faster, more effective rate, resulting in sales growth. The sooner a seller can replenish inventory, the sooner more sales can be made.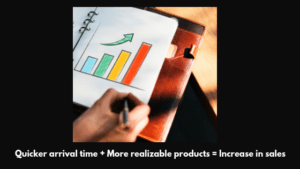 Ensure Product Safety & Quality
In some supply chains, goods can be handled by multiple parties as they are passed from manufacturer to supplier to seller to marketplace. With each stop a good must makes between its origin and the consumer, the greater likelihood of issues and damage occurring. With Direct Ship, there is less handling of products, resulting in less product damage and less unhappy customers receiving damaged goods. In turn, these happy customers will be more inclined to leave a positive review, which improves overall trust in a brand, online traffic, rankings on search engines, consumer purchasing decisions, and bottom line sales – all great things for a company trying to maximize their business on Amazon. While Direct Ship may require the vendor to allocate additional time to planning and administration, the benefits of shipping directly to Amazon greatly outweigh the cons. If you'd like to discuss your fulfillment strategy with one of our Amazon experts. Get your free assessment.
More Resources And Articles
Contact Us
Learn more about how we can help your Amazon business succeed!
700 West Pete Rose Way, Suite 540, Cincinnati, OH 45203