News & Insights
How to Win the Amazon Buy Box
What's the hottest piece of real estate on Amazon? You'll find it in the upper right corner of a product listing page, and it's called the Amazon Buy Box. Convincing shoppers to add your product to their cart and follow through on the purchase is one of the toughest things to accomplish on Amazon. And, landing in the Buy Box is one the most effective ways to improve your chances. Let's take a look at why it's important to compete for the Buy Box—and how you can improve your strategy for winning it.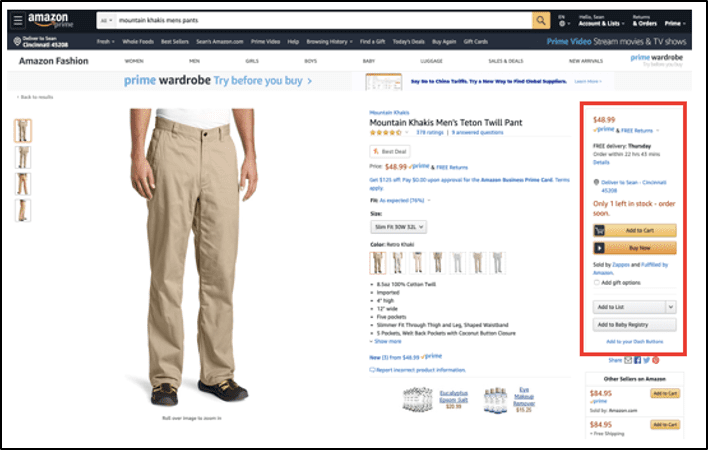 Small Box. Big Impact.
No less than 80% of all Amazon purchases happen in the Buy Box. In other words, the brand that lands there is far more likely to capture the sale than the "Other Sellers" listed below. Amazon uses a host of algorithms to determine who appears in a particular Buy Box at any one point in time. It's not uncommon for the Buy Box to be shared among several sellers, though this doesn't mean they get equal time on center stage. The stronger seller, as viewed from Amazon's point of view, earns more time there.
Who Gets In?
How does Amazon's algorithms identify your product as "box worthy?" To be eligible, you have to be a professional seller moving a respectable volume of product in your category. Your brand also needs healthy account metrics. These vary from category to category (and change frequently), so it's not easy to determine exactly which metrics Amazon uses to evaluate seller performance.
Happy Customers are Key
Thankfully, there is one move you can bank on to help your products land in the Buy Box—offering shoppers a positive and valuable experience. The first and most important step is to sell your product at a very competitive price. In addition to price, here's a few other important tips for creating a positive shopper experience and increasing your odds of appearing in the Buy Box:
Participate in Amazon's Prime program.
Ensure you have ample inventory in stock so customers aren't left waiting.
Manage your shipping processes so that products arrive on time—and in good condition. Participating in FBA (Fulfillment by Amazon) is a huge plus.
Make product returns and refunds as fast and hassle-free as possible.
Maintain a star rating better than your competition. For tips on how to do this, check out this post.
In short, the happier you make shoppers with low prices and great service, the happier you make Amazon. And the happier you make Amazon, the more likely you'll find your products right where you want them to be: in the Buy Box. If your brand would like some help with winning the Buy Box or improving your overall Amazon sales strategy, reach out to us here.
More Resources And Articles
Contact Us
Learn more about how we can help your Amazon business succeed!
700 West Pete Rose Way, Suite 540, Cincinnati, OH 45203