On Amazon, where customers can buy almost anything under the sun with a few clicks, brands need a way to stand out. Enter A+ Content: your secret weapon for selling more product online. If your brand has already begun selling via Amazon Seller Central, you've probably heard about A+ Content before. But perhaps you haven't considered what it can actually do for your business. To sum it up in one sentence: Amazon A+ Content offers you a proven way to boost traffic and sales. No brainer, right? As an Amazon seller, you shouldn't overlook A+ Content. Because even if you can't write like Hemingway or paint like Picasso, you can create captivating Amazon content that drives purchases. In this article, we'll cover all you need to know about A+ Content, as well as:
Amazon Premium A+ Content
A+ Content best practices
Amazon A+ Content guidelines
Amazon A+ Content templates
Good Amazon A+ Content examples
How to create A+ Content
What Is Amazon A+ Content?
Amazon A+ Content is enhanced product detail for your Amazon product pages that can take many forms, including high-quality images, comparison charts, video content, FAQs and more. In our social media-driven world, consumers have come to expect personalized service, top-notch content, and a seamless experience – including when shopping. To meet evolving consumer needs, Amazon has designed A+ Content to help shoppers make more informed decisions. As Jeff Bezos has said, "we're customer-obsessed;" to win on Amazon, you have to be customer-obsessed, too. Look at A+ content as your chance to let your brand and products shine. The content should serve as an extension of your website and social media, and you should aim to delight and connect with your customers. Use the space to convey your product's unique value proposition and give customers a more memorable shopping experience.
The Bug Bite Balm Example
Have a look at the following product page for a bug bite balm. Rich visuals, combined with informative, concise copy, put the benefits of the product on full display.
Now, compare the Nature's Willow page with that of a competing product that doesn't have A+ Content.
With no Amazon A+ Content below-the-fold, the seller loses the chance to win over a customer at the decision stage. Even worse, the shopper may click on a competing product that has more positive reviews. As you can see, if executed correctly, Amazon A+ Content can enable brands to differentiate themselves from competitors, build customer trust, increase conversion rates, and establish long-term brand loyalty. It can even lead to higher rankings on Amazon search engine results pages (SERPs).
What is Premium Amazon A+ Content?
Did you know that you can go beyond A+ Content? Amazon A+ Premium Content, also known as A++ Content, expands a listing page's usable real estate and offers brands even more features and image capabilities. An Amazon A+ Premium Content listing page may include:
Integrated 720p videos up to three minutes in length
16 interactive content modules with HD images (there are 12 Amazon A+ Content templates)
Robust, clickable FAQs that educate and address common concerns, and therefore remove any barriers to purchase
Interactive content such as video loops and carousel modules, which allow customers to see multiple angles of a product quickly ‍
Voice-friendly and mobile-friendly product pages that make scrolling and digesting content more seamless‍
Connection with the Alexa System so customers can research your product anytime, anywhere
Unlike A+ Content, which is free, Amazon charges a large fee for Premium A+ Content (well into six figures). Therefore, Amazon A+ Premium Content only makes sense for major vendors who have high revenue and big marketing budgets. For sellers, Amazon A+ Content boasts plenty of features and capabilities. It's more than enough to win over customers and win on Amazon.
Why You Need Amazon A+ Content
Because without A+ content, you leave money on the table! According to data from Amazon, you can increase your Amazon sales by up to 10% – just by adding A+ Content to your page! Considering how you can use A+ Content to incorporate visuals and copy in an attractive, easy-to-scan way, it's easy to see why it boosts conversion rates. After all, 65% of humans learn visually and 90% of the information our brain processes is visual. Moreover, text with imagery gets 94% more views than text without imagery. To put it plainly, if you don't use A+ Content, many shoppers won't even take notice of your product details. They'll click away before they read it (if they even come to the page at all).
Beyond convincing on-the-fence shoppers to purchase, A+ Content can improve other financial metrics. With increased conversion rates and better organic ranking, you'll enjoy a reduction in advertising cost of sale (ACoS) and an increase in return on advertising spend (ROAS).
How exactly does A+ content achieve all this?
Amazon A+ content allows you to use proven marketing techniques and deliver what shoppers want. You can:
Tell the product/brand story: Highlight your brand's history and values, as well as what makes your products unique. This helps establish a deeper connection with your customer. As brand loyalty experts note, the brand story is how you attract folks who believe in your message and will support you over the long haul.
Overcome customer purchase barriers: Educate your customers, create comparison charts, and show how your product best addresses pain points. The "Jobs to Be Done" product theory states that consumers buy products to perform a job. By showing what the product does, you can convince the shopper that it's the right item for them. Take a look at how CushCore, a seller of bike tire inserts, details one of their products below.
Increase discoverability: Since conversion rates affect Amazon search rankings, having A+ Content can help SEO, even if Amazon doesn't index A+ Content yet. It's worth noting that Google does index A+ Content, so having relevant keywords and live text can also drive traffic from outside of Amazon. Products on the first page of Amazon search results get 80% of the clicks. 60% of those clicks go to the first three listings.
Turn views into sales!
If you want to grab a shopper's attention on Amazon, then showcase your product through A+ content. Relevant information and beautiful imagery will shine a spotlight on your product and boost sales. What's also great is that the benefits of A+ Content don't stop there. Amazon A+ Content can create a positive cycle that continually improves the standing of your product and business on Amazon. For example, since you'll offer customers a better shopping experience, you have a better chance of getting more positive reviews. Studies show that conversion rates increase as the number of reviews and star rating of products rise. By using A+ Content to inform your customers about the product, you increase the likelihood that shoppers make the right purchase. In turn, this reduces your return rate (an ROI killer).
Who Can Use Amazon A+ Content?
A+ Content is available to any sellers or vendors whose brand appears on Amazon's Brand Registry. Amazon has also made a few exceptions for emerging brand owners who participate in certain managed selling programs, such as Amazon Exclusives and Launchpad.If you haven't been approved through Amazon Brand Registry, you'll have to apply with Amazon (link here). Once approved, you can add A+ Content to any product in your brand's catalog. (Brand registry benefits don't stop with A+ Content. It also helps fight counterfeit products and unauthorized sellers – making it easier to find, report, and remove bad listings and unauthorized sales. Read our guide on Amazon Brand Registry here.)
Steps to Create Amazon A+ Content
For A+ Content, you have to make a choice between the "Self-Service" or the "Amazon Builds for You" approach. With Self-Service, you maintain control over the images, copy and other content. If you choose the other path – which is available only to select vendors – you upload content files to Amazon and they take it from there. While this path is certainly convenient, there are limitations when it comes to content customization and control. For these reasons, we strongly recommend the Self-Service path.
The Self-Service option is your greatest ally when it comes to maintaining creative control of your brand.
Now, let's discuss how to create A+ Content yourself. On Amazon Seller Central, brand registered sellers can see the step-by-step process. To begin, head to your ASC homepage. From the Advertising menu, click A+ Content and then Start Creating A+ Content. From there, you can choose among the various Amazon A+ Content templates and start building your content. Note that Amazon has 15 available modules to build your template. This design flexibility enables you to best embody your brand's voice and style. With each content module, you must adhere to image requirements. For instance, the brand logo should contain one 600 x 180-pixel image. The header image can be 970 x 600 pixels. For a comparison chart, you can have up to five images of 150 x 300 pixels. For full details on Amazon A+ content guidelines for images, see the chart below.
The tough task of creating Amazon A+ Content
Not only is the process labor intensive, but doing it right requires expert knowledge, creative skills, and continuous monitoring and optimization. You also have to navigate complex and ever-changing rules and regulations. To get the best results from your Amazon A+ Content, you need a well-rounded, expert team. For images, videos, and layout, you need a rockstar graphic designer or user interface designer. We've seen online sellers increase conversion rates by more than 25% – just by improving their imagery. So, make sure you have design talent for your A+ Content. You also need a copywriter who knows how to make the product a hero. E-commerce copywriting necessitates precise language and an understanding of customer needs. If you do the copy wrong, or don't give it enough attention, you basically toss customers out the door. Don't do that! To ensure you're as successful as possible, you also need an Amazon strategy expert to oversee the creation and monitoring of A+ Content. Amazon strategy experts can assist with things like A/B testing to ensure you put the best possible content out there. If you don't have an in-house team, consider working with an Amazon partner agency like Amify. At Amify, our creative team has a track record of success creating A+ Content that converts.
Amazon A+ Content Guidelines and Restrictions
While you have a lot of creative freedom with A+ content, it's not a free-for-all in this e-commerce space. Amazon has rules regarding what types of content are allowed. For visual content, Amazon may reject blurry or low-quality images and images with watermarks. Any text embedded in the image must be readable. Lifestyle images must show the product in use, unless it's a brand image telling the brand story. You also need fresh photos, as duplicate images may be rejected.
What's Not Allowed
When it comes to Amazon A+ content guidelines for copy, keep in mind the following content may not be allowed:
Mentions of seller authorizations (for example, you can't say "shop with us for authentic products")
Warranties, satisfaction guarantees, and references to off-Amazon refunds and returns
Terminology around promotional pricing, such as "cheap", "free", or "affordable", as well as language encouraging shoppers to purchase, such as "get yours now"
Shipping details like "free shipping"
Copyright, trademark, or registered symbols
Boastful language, such as "#1 product on the market"
Time-sensitive language that creates urgency, such as "on sale for a limited time"
More than two third-party quotes (all quotes must come from a known public figure or well-known publication
Discussing product awards without a reference or disclaimer
Links or language attempting to direct the shopper to other sites (you can't add your customer service phone number!)
Certain text, such as strings of all-caps text or punctuation errors
Additionally, Amazon makes an effort to block unverified claims, such as claims about drug benefits (health category products must have an FDA disclaimer). For a full list of prohibited product claims, click here. Note that Amazon A+ Content guidelines can vary by category. Before creating A+ content, read over category requirements and selling policies. For example, the e-commerce platform has guidelines and policies for adult products.
Amazon A+ Content Best Practices
While A+ Content can benefit all of your products, start by focusing on the items most likely to result in bigger revenue gains – your top-sellers and products with larger margins. You should also prioritize any products you're currently supporting with marketing dollars, as A+ Content can help deliver a better ROI.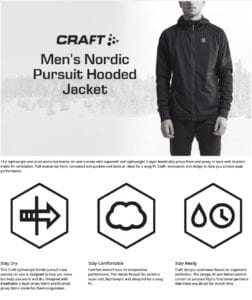 By focusing on creating A+ content for top-selling items, Craft put themselves in position to achieve a higher conversion rate and get the best possible ROI.
The reason for this strategy is simple math. Consider these two examples:
Your top-selling product has a 10% conversion rate and generates $100,000 in annual sales. After creating stellar A+ Content, the conversion rate rises to 15%. As a result, that product's annual sales will increase to $150,000.
You focus on boosting sales of one of your slower-selling products. Let's say it generates $10,000 per year with a 5% conversion rate. After creating stellar A+ Content, the conversion rate rises to 10%. As a result, that product's annual sales will increase to $20,000.
In example one, you achieve revenue gains of $50,000. In example two, you achieve revenue gains of $10,000.Clearly, it makes sense to focus your marketing efforts and resources on the products that move the needle the most.
Tips for Creating Enhanced Brand Content
As you begin, here are the best practices for Amazon A+ Content to keep in mind:
Make sure content is easy to read and absorb.
Include a variety of product images.
Incorporate the most searched category keywords in your copy.
Emphasize your product's unique selling point.
Pair your descriptive text with images.
Be consistent in design and copy. Your A+ content is an extension of your brand and should adhere to your style and copy guidelines like any other communication.
Read customer reviews. To check this quickly, reference the "Read reviews that mention" section above the reviews (the image below is of a face cleanser).
Share consumer comments. If shoppers praise certain products or features, use your A+ Content to give those accolades some extra attention and punch.
Leverage banners to grab the shopper's attention.
Utilize charts.
Study and learn from competitors
Proofread and review as Amazon's approval process can take up to a week.
Manage your experiments and optimize content based on A/B testing data.
How Much Does Amazon A+ Content Cost?
Amazon A+ content is free. Yes, you read that right. You can gain an advantage over your competition without having to make a financial investment. Even better, Amazon makes it super easy to add this feature to your brand's listings. Still, you may decide that creating A+ Content yourself isn't best for your e-commerce business or isn't the best use of your time. Having a talented internal team or expert Amazon partner agency do the work will cost money. But it should pay off more in the end. At Amify, for example, we partner with brands and help them create A+ Content that converts. Even with a brand's investment in us, our expertise can lead to better ROI than if the brand worked alone. That's because we help navigate the complexities of Amazon Seller Central and go the extra mile to maximize conversions with A+ Content.
Good Amazon A+ Content Examples
So that you can better imagine how A+ content can help your brand, look at some of our Amazon A+ Content examples below. Think of how that sort of content could convince your customers to click "Add to Cart". The following Amazon A+ content example comes from Topo Athletic, a shoe company. Shoppers would find this content "below-the-fold" of an Amazon product page, usually beneath the section titled, "From the Manufacturer."
A lifestyle image, accompanied by concise text and informative graphics, highlights the benefits on these trail running shoes in a visually appealing way.
Below, you'll see an Amazon A+ Content example that shows how brands can use the feature to provide technical details and educate consumers on how to use the product.
Aquamira, a maker of water purification products, utilizes A+ Content space to alleviate customer concerns about how their product works.
Do you now realize how clean, colorful design and informative content can capture the attention of shoppers and make them more likely to buy? This is the power of A+ Content.
Is A+ Content Worth the Investment?
Though you don't have to pay anything to post A+ content, you do have to invest time and resources (and pay staff). When considering whether to create A+ content, ask yourself:
How much revenue does this product ASIN generate?
For ASINs that generate lots of revenue, it's certainly worth the investment. A 10% increase in revenue for a product that generates $300,000 per year is $30,000 more back into your business!
Do competitors have A+ content?
If better-performing competitors have A+ content, you should create your own to raise your product's competitiveness. If other competitors don't, A+ content can be a way to differentiate your product and become the market leader.
What is the product category?
Amazon often places product comparisons for categories. To avoid customers clicking to a competing product in the comparison chart, you can use A+ content space to create your own comparison chart. This enables you to showcase other products in your line, and guarantee the customer stays in your "store."
How complex is the product?
If you're selling something like heat guns, then A+ content gives you space to explain technical specs, highlight features and functions, and show how the product works.
If you want the best results, find an expert Amazon partner agency to create A+ content. Choose wisely by partnering with an agency that's committed to your success. For instance, at Amify, we make sure investing in A+ content is worth it for you by aligning your success with ours. This helps ensure you produce the best possible content and boost conversion rates and revenue.
Settle for Nothing Less than an A+
If you're interested in learning more about A+ Content, the video below is an excellent place to start. And as you dive in, don't be intimidated by how much time and energy it might take to produce this new content for your brand store! Amify can help your brand to not only create and manage your A+ Content, but also enhance your Amazon presence in other ways.
More Resources And Articles
Contact Us
Learn more about how we can help your Amazon business succeed!
700 West Pete Rose Way, Suite 540, Cincinnati, OH 45203