News & Insights
All About the Amazon Climate Pledge Friendly Badge
Informative
Update Q2 2022: It's been nearly two years since the launch of the Amazon Climate Pledge Friendly Program to encourage brands to design products with increased efficiency and better packaging. Climate Pledge Friendly products are clearly labeled in shopping results, have additional sustainability information on the product page, and even are featured in a dedicated section on the Amazon site. The label signifies a product has one or more sustainability certifications that help preserve the natural world.
Many brands are already participating and/or improving their sustainability practices to qualify for the Climate Pledge Friendly Badge on Amazon. By the end of 2021, Amazon had 200,000+ products with the badge. Originally, the program had 19 certification agencies; that's now increased to 30+ certification agencies and 37 certifications across the US and Europe (see the list below).
While it appears that Amazon does not place its Climate Pledge Friendly row of products as high in search results as before, products with the Badge still have a much better chance of ranking high in Amazon search results – whether that be in the Climate Pledge Friendly row or in organic search results. They also get placement in Amazon's Climate Pledge Friendly store, which can attract eco-conscious shoppers directly to your brand.
…
78% of consumers are more likely to purchase a product that is labeled as environmentally-friendly, according to research from GreenPrint, an environmental technology company. The message that sends is clear: Prioritize sustainability or risk your business becoming unsustainable.
Amazon, long known for their customer-first strategy, has gotten ahead of this trend with their Climate Pledge Friendly Badge. By partnering with trusted third-party certifications, Amazon helps online shoppers discover and buy more environmentally friendly products.
Businesses selling on Amazon should take note – if you qualify the Amazon Climate Pledge Friendly Badge, apply right away. As research shows, demonstrating that your company values sustainability will boost conversions. If you don't yet qualify for the Amazon Climate Pledge Friendly Badge, know you can still get into the program by taking steps to make your packaging, products, supply chain or manufacturing and work processes more eco-friendly.
In this article, we'll cover all you need to know about the Amazon Climate Pledge Friendly Badge, as well as show you how to apply and how you can qualify.
What is the Amazon Climate Pledge Friendly Badge?
The Amazon Climate Pledge Friendly Badge is a green initiative that's a part of the e-commerce giant's larger strategy to reduce their carbon footprint and protect the environment. Other Amazon initiatives include a commitment to power 100% of their operations with renewable energy by 2025 and a promise to be carbon net-zero by 2040. Amazon also runs the Climate Pledge Fund, which supports the development of sustainable technologies and services.
Through the Climate Pledge Friendly program, Amazon makes finding eco-friendly products on their site easier. The Climate Pledge Friendly Badge is clearly listed below the product title and rating stars. Customers can click on the label to see exactly which certifications the product has.
For example, First Aid Beauty, a skincare brand, has numerous products that have received the Amazon Climate Pledge Friendly Badge.
‍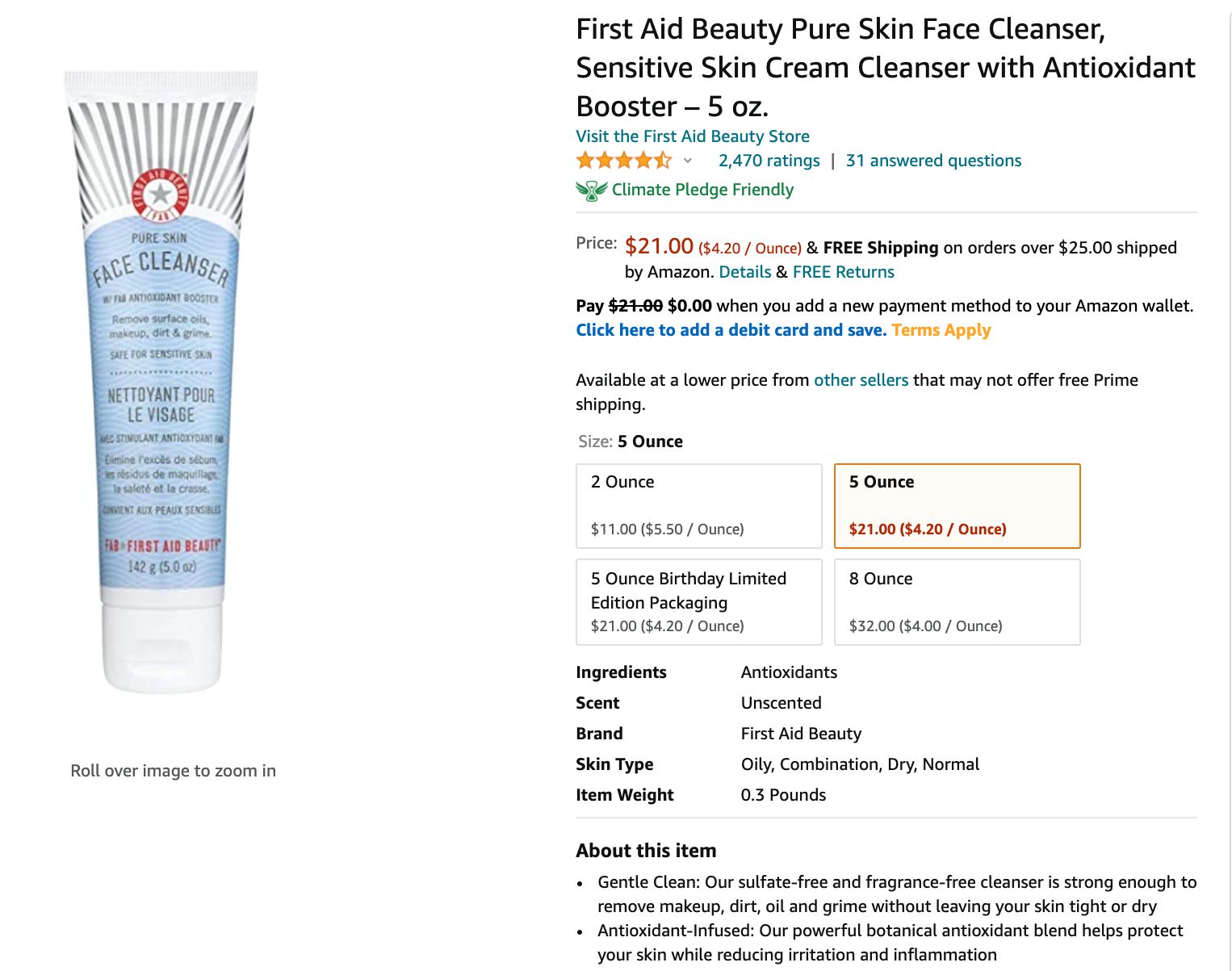 See the Climate Pledge Friendly Badge right below the star ratings?
To further enhance the shopping experience for environmentally conscious consumers, Amazon has created the Climate Pledge Friendly Storefront. At the storefront, customers can quickly and easily browse through certified products across all major categories, from health and household to beauty and groceries.
Note that Amazon only gives this badge to products (and not brands). So you may still qualify for the badge on some of your products even if others may not.
Amazon displays the top Climate Pledge Friendly products on the Shop page of the storefront. Getting your products on this page would be a huge boon to sales.
Higher Search Rankings – The Big Benefit to Having the Amazon Climate Pledge Friendly Badge
In early 2021, the value of having the Amazon Climate Pledge Friendly Badge increased tremendously, as Amazon began placing these products high in the search ranks.
For many products, you can rank high on the first page just for having the Badge, even if you don't rank high organically for those search terms. This delivers your brand incredible value. Remember: Products on Amazon's first page of search results get 81% of the clicks.
In the example above, you see the Amazon Climate Pledge Friendly module for organic shampoo products. This module usually appears in or around row 8 of the first page, which means having the Badge now can truly elevate your products and brand (especially if you're not getting on page one organically). A Climate Pledge Friendly Badge could be your ticket to page one of Amazon search results.
For many products, the Amazon SERP for page one of search results is now as follows:
Row 1: Product ads
Row 2: Top 4 organic ranking products
Row 3: Highly-rated sponsored products
Row 4: Top 5-8 organic ranking products
Row 5: Top 9-12 organic ranking products
Row 6: Video ads
Row 8: Amazon Climate Pledge Friendly products
Row 9-19: Mix of organic ranking and sponsored products
Row 20: Video Ad
Note this order can change based on products or updates to Amazon's search algorithm and ad policies. While we don't exactly know how Amazon ranks products with the Amazon Climate Pledge Friendly, they are getting priority with their own row on page one and overall higher visibility in searches.
This is why we recommend you get your products into this program as early as possible. Not only does being certified Amazon Climate Pledge Friendly create an edge over the competition as you'll be seen as the greener option, but it's clear Amazon will continue to prioritize and favor eco-friendly products.
First, environmentally conscious shoppers can more easily find green products thanks to the Climate Pledge Friendly Storefront. Now, shoppers can see your eco-friendly products in row four on the first page of search results!
These benefits should drive more clicks and purchases for eco-friendly products. And as purchases and good reviews on Amazon increase, your products' organic ranks will naturally improve. It can create a very positive cycle for your business on Amazon.
Simply put, the Amazon Climate Pledge Friendly Badge could create momentum for your brand on the site and increase sales and profitability.
Amazon Climate Pledge Friendly certification partners
To certify that products are environmentally friendly, Amazon has partnered with reputable third-party organizations that offer sustainability certifications. To qualify, your product must have one or more of these certifications. Again, certifications are specific to products, not brands.
Amazon's Climate Pledge Friendly certification partners include:
Bluesign
Carbon Free Certified
Carbon Neutral Product by Natural Capital Partners
Carbon Neutral by Carbon Trust
Carbon Neutral Certified by SCS Global Services
Certified Animal Welfare Approved
Climate Neutral by Climate Partner
Amazon's Compact by Design
Cradle to Cradle Certified
ECOLOGO
ENERGY STAR
EPEAT
EWG Verified
Fair Trade Certified
Fair Trade International
Fair for Life
The Forest Stewardship Council
Global Organic Textile Certified
Global Recycled Standard
Green Seal
Higg Index Materials
Made in Green by Oeko-Tex
MAID SAFE
Natrue
Organic Content Standard 100
Rainforest Alliance
Organic Content Standard Blended
Recycled Claim Standard 100
Reducing CO2 by Carbon Trust
Recycled Claim Standard Blended
Regenerative Organic Certified
Responsible Wool Standard
U.S. EPA Safer Choice
USDA Organic
‍
No matter what you sell on the e-commerce site, you can take steps to get into the Amazon Climate Pledge Friendly program. Some certifications are specific to industries while others require greater use of recycled materials in products and packaging. Some certifying bodies, such as Made in Green by Oeko-Tex, test for harmful substances and examine if workplaces are reducing environmental impacts.
Research what you could qualify for and take steps to get that certification! The application process can be confusing and time-consuming. So, finding an Amazon partner such as Amify can help you navigate and streamline the application process and successfully obtain certification.
Another advantage of having that badge is that environmentally and socially conscious shoppers may go directly to the Amazon Climate Pledge Friendly store to shop. For instance, a shopper looking for wool clothing may want to ensure the products meet animal welfare standards. Therefore, they may click "Shop Certified Animal Welfare Approved products" directly. If you sell wool shirts, pants, socks or shoes, you want that Badge if you qualify so you can show up in those shop results.
‍
‍
When your product gets the Amazon Climate Pledge Friendly Badge, it signifies to customers that your product helps preserve the natural world and/or protect human and worker rights, increase supply chain transparency, promote gender equality, improve farming practices and more. Once your product has one of the green certifications, Amazon will display the Climate Pledge Friendly Badge on your listing.
You should see the benefits of having that badge over the course of time through your conversion rates, page traffic, reviews and more. Furthermore, with an Amazon Climate Pledge Friendly badge, you now have the ability to position your products as eco-friendly through your listing copy, images, and A+ Content. That should help even more with winning over environmentally conscious shoppers.
Understand that it's important to stay updated on this list of partners. Amazon will add more partners as the program becomes more popular with sellers and the trends toward eco-friendly products continue. Amazon has been adding their own certifications as well to help customers shop more sustainably.
Amazon's Compact by Design certification
Compact by Design, an innovative Amazon Climate Pledge Friendly certification, encourages brands to design products with increased efficiency and better packaging. The idea is that, by removing excess water and air, products can become lighter and smaller, making shipments more efficient. At scale, this can reduce carbon emissions significantly.
‍
For a product to get Compact by Design certification, Amazon calculates unit efficiency, with a unit being defined as the "total amount of product in the container." The formula is as follows:
Unit efficiency = (weight per unit) x (cubed volume per unit)
For a clear example, think of a concentrated cleaner that comes in a cartridge versus a non-concentrated household cleaner that comes in a large spray bottle. Obviously, the concentrated cleaner in a cartridge could meet the Compact by Design standard, while the cleaner in the bottle wouldn't. That's because the concentrated cleaner has greater unit efficiency.
How to get the Amazon Climate Friendly Pledge Badge
As mentioned above, your product must have one or more certifications from a third-party organization or Amazon. The general steps you'll take are as follows:
Once you have certification from a third-party partner, ensure that your product's information on Amazon is updated. The badge should automatically appear on your listing once you have the certification and your product information is updated. If it doesn't, contact Amazon Seller Central or Amazon Vendor Central, being sure to provide the relevant certification documents.
Note that the application process for these certification bodies can take time and gathering the necessary information can be time-consuming and complex. Working with an Amazon partner agency can help make sure the process goes smoothly and efficiently and that you get the certification you need. At Amify, we've helped several clients get proper certification and obtain that precious Climate Pledge Friendly Badge.
Succeeding in the era of eco-friendly e-commerce
Amazon has 200+ million Prime members and the website gets nearly 3 billion visits per month. Considering that 78% of those shoppers would be more likely to buy eco-friendly products, proving that your brand values sustainability can help win them over. One of the best ways to do that is by getting an Amazon Climate Pledge Friendly Badge.

Beyond the badge, your product copy, imagery and even advertising on Amazon should highlight your brand's commitment to sustainability. Of course, actions speak louder than words – so take concrete steps to show your product and package help preserve the planet and improve the quality of life for people.

Doing this successfully requires a comprehensive approach and solution. For brands hoping to make the most of the ever-changing Amazon landscape, having an expert Amazon partner can make all the difference. At Amify, we're ready to help your company build a positive reputation as an eco-friendly brand on Amazon.
More Resources And Articles
Contact Us
Learn more about how we can help your Amazon business succeed!
700 West Pete Rose Way, Suite 540, Cincinnati, OH 45203